Trump retweets anti-Muslim bigot questioning whether U.S. mosques will be treated different from Christians during holy holidays

During a Saturday White House briefing Trump stated without evidence there 'could be a difference' about how authorities enforce the lockdown for Muslims than Christians

CAIR calls statements 'divisive and insulting,' 'Islamophobic fantasy' and 'Incoherent'
By Robert S. McCaw, CAIR Director of Government Affairs Department
April 20, 2020

On Saturday, President Trump promoted a notorious anti-Muslim bigot's tweet questioning whether U.S. mosques will be treated differently during the upcoming month of Ramadan than churches were treated during Easter amid the COVID-19 pandemic lockdown.

Later that day during a White House coronavirus briefing, Trump responded to reporter's question about the retweet by claiming – without evidence – that there "could be a difference" in how authorities enforce lockdown measures during Ramadan compared to how Christians were treated on Easter. He added: "And we'll have to see what will happen. Because I've seen a great disparity in this country."

Video: Trump Gives Incoherent Response to Question About Retweet of Islamophobe's Comment on U.S. Mosques
SEE ALSO: Trump Says Social Distancing Rules Should Be Same for Ramadan, Easter

CAIR immediately responded to the White House briefing with a tweet condemning Trump's statement calling it "incoherent:"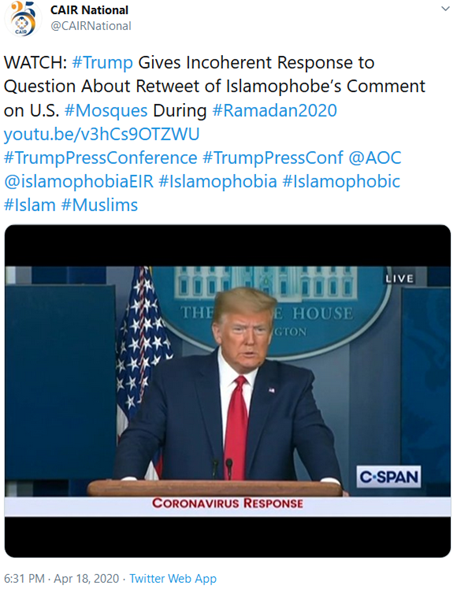 The following day, CAIR issued a full press release condemning Trump's Islamophobic attack on American Muslims and Islamic houses of worship..
In CAIR's statement, CAIR National Executive Director Nihad Awad said:
"President Trump's bigoted attempt to use American Muslims as a political football just before the holy month of Ramadan was as divisive as it was insulting.
"Mosques across our nation have already announced plans to remain closed indefinitely because the American Muslim community, unlike President Trump, recognizes the ongoing threat of the coronavirus.
"Furthermore, President Trump's claim that American mosques — many of which have been protested, threatened, vandalized and even bombed in the years since he launched his first presidential campaign — receive preferential treatment compared to other faiths is an Islamophobic fantasy.
"Instead of fanning the flames of bigotry to distract the public from his own failures, the President should focus on combating the continued spread of the coronavirus."

Awad also cited a statement by the Fiqh Council of North America that called on mosques and Islamic centers to "strictly follow the health and state official guidelines for social gatherings and distancing," and to hold special nightly Ramadan prayers "at home within a family setting."

CAIR notes that on March 19 the group joined the National Muslim Task Force on COVID-19, a broad coalition of 34 American Muslim organizations, in releasing a joint statement strongly recommending that Muslims in North America make every effort to support self-quarantine and social distancing as advised by local, regional, state, and national public health or government authorities.
The Task Force advisory urged Muslim congregants to avoid all public gatherings to protect themselves, their families and communities. It states that mosques, community centers, schools and other public centers immediately suspend all non-essential gatherings until further notice.

In effect, America's mosques closed their doors to the before many states started to enforce lock their own lockdowns.